It's been a while since i'm writing about my fragrance-miniature collection, my collection is growing really well (i have about 20 of them now), but i haven't finish reviewing the first batch since then..
Now is time for Juicy Couture's Viva La Juicy

(new Hello Kitty emoticon, so cute eh? :D)
here's how it looks like, so different with full size bottle!
actually, full size bottle look like this :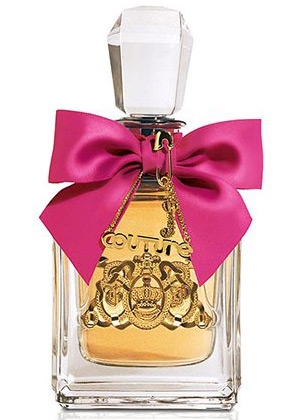 The perfume
Viva la Juicy
was presented as a gourmet floral fragrance, which opens with notes of wild berries and juicy mandarin. The heart encompasses a floral blend of honeysuckle, gardenia and jasmine, while the base notes await us with a gourmet rhapsody of amber, caramel, vanilla, sandalwood and pralines.
I've hide some details, because we know there's so many fake items and i want to do something to prevent it

ヽ(`◇´)/
main accords of viva la juicy :
sweet

- sugary sweet, but not very disturbing, thanks to the second main accord.

white florals

- i do think white florals is so dominant, very close to sweet accord, there's 3 kind of white flowers in middle note : gardenia, jasmine and honeysuckle which can be smell since the very first use.

caramel

- when the sweetness feels like shaking my stomach, it possibly because of caramel.
I dont get many vanilla nor citrus, they're the latest think on my head when i use Viva La Juicy. Sometimes it makes me feel so young, but sometimes it just elegant and nice. Sillage and staying power are good, on me it stay for 7-12 hours and sillages from arm length to heavy.
If you like sweet fragrance, with white florals coming inside and out, you'd love it. But if you get headache whenever you smell sweetness, please skip it. I found it better to use on clothes (i'm not doing it with most of my fragrance, only 2 kind : too good on sillage or last for a very short time) than on my skin.
have you try this? i know so many girls love it.. i used to love it but now, it gave me too much headache.