I am lately realized that i adoring Rose notes in fragrance. I don't really like rose as flower, but in notes, it's different story.
There's so many fragrance that took rose as their notes. Why do i chose issey miyake's? L'eau D'Issey Florale for me is soft, barely there fragrance, modern, feminine yet elegant. And surprisingly it last kinda long. Six hours for soft fragrance? Great.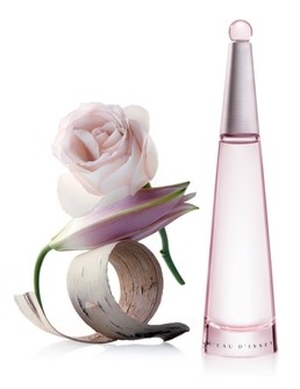 the advertising image
Sorry for the crumpled background. I am lately notice it.
L'eau D'Issey florale comes in Issey Miyake's signature bottle.
Mine is in 10ml bottle, miniature in exactly same packaging as the full sized one.
I like the shape, the color (it's pink!) and it has spray.
I like to carry it in my daily bag.
Cap part is made from thin metal, adding sophisticated touch to the whole appearance.
The notes inside are simple. They're rose (absolutely), red mandarin, lily and woodsy notes. Not too complex, and they're well blended. You're hardly tell what notes taking part at the time, but still, rose are pretty easy to detect.
I would recommend L'eau D'Issey florale for daily use, when you're need an appropriate fragrance that stay long and makes you feel fresh, feminine and happy! :D